The picturesque hill station of Munnar is in Kerala, India's southernmost state has some of the most beautiful tea estates in the world
. The altitude of the hill station ranges from 5000 and 8000 feet. It is one of the most popular hill stations in South India and is a popular honeymoon destination. Munnar is blessed with pleasant weather, scenic waterfalls, rich green foliage, stunning lakes, and mist-covered mountains. A visit to the hill station will be incomplete without visiting the Munnar tea estates.
ALSO SEE- Top 15 Must Visit Tourist Places in Munnar
Many private tea plantations provide guided tours around the plantation to learn many stages of tea production. Do not miss out on an experience of a lifetime.
List of Best Munnar Tea Estates
There are several ways to explore Munnar Tea Estates. You can stop and ask if you can visit plantation while sightseeing. Not all private tea plantations are open to the public, some plantations such as the KDHP, permit visitors. You can opt for a tea plantation tour.
The tour usually includes a walk around the plantation and a visit to the factory to learn how tea is manufactured. Some travel companies offer sunrise treks in Munnar, you can hike to a vantage point to witness a magnificent sunrise and also get to walk around a plantation. You can also ask your hotel for recommendations.
1. Kanan Devan Hills Plantations, Nallatanni Estate
The Nullatanni Estate is home to KDHP's Kannan Devan Hill Plantation which is the most popular in Munnar and dates back to the British Era. The estate spans 2461 hectares, is home to the nation's first-ever tea museum – the Tata tea museum and is a must-see part of your Munnar Tea Plantation tour.
The museum showcases a variety of machinery used in tea production from the early to the late 20th century. A few of the exhibits on display in the museum are the original tea roller from 1905, a rotor vane, A peloton wheel from Kanniamally Estate power plant in the 1920s, and artifacts from the Kundale Valley Light Railway that operated between Munnar and Top Station in the early 1900s.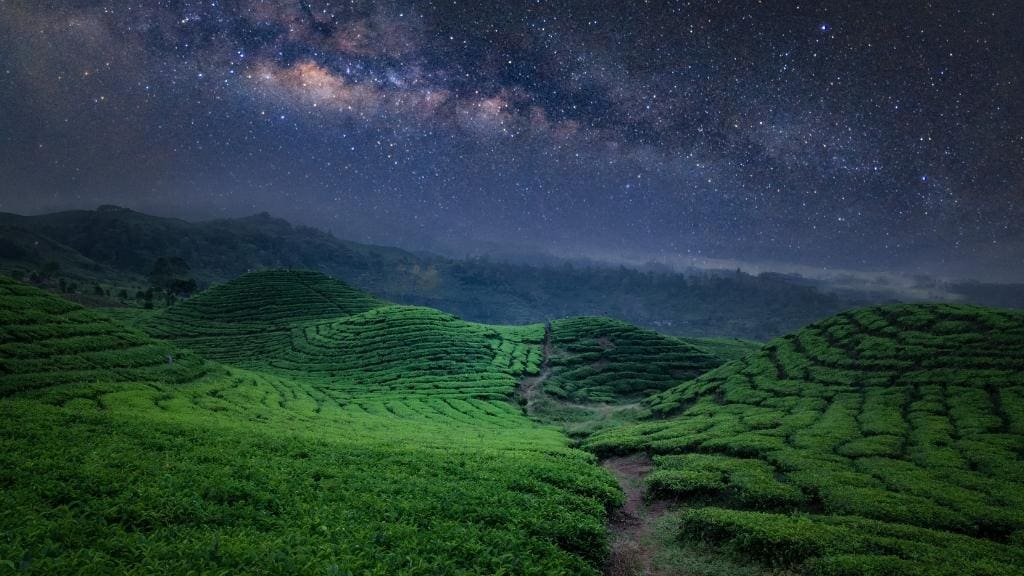 The picturesque tea museum is surrounded by tea gardens, beautiful gardens, and mountains. You can enjoy the aroma of freshly ground tea and watch how tea is processed. Learn more about India's tea plantation industry. You can also taste different types of tea, including some of the best tea available in India.
If you love tea, you can purchase good quality tea at economic rates.
Timing: 9 am to 5 pm, closed on Mondays and public holidays.
Fees: Rs. 75 for adults and Rs. 35 for children. Rs. 20 to carry a still camera.
ALSO SEE- 100 year Tea Museum in Munnar
2. Kolukkumalai Tea Estate
Kolukkumalai Tea Estate is around 35 km from Munnar in Kottagudi village in the Theni district of Tamil Nadu. It is one of the best locations for tea plantations in Munnar and is considered to be one of the most stunning plantations in India. Kolukkumalai is the highest tea plantation in the world and is at an altitude of 7900 ft. The British built it between 1920 to 1927 with the help of the Chettiar Brothers from Bodinayakkanur, Tamil Nadu, India. AJ Group has managed the 81-hectare estate since 1971.
The Kolukkumalai Tea Estate manufactures tea by the traditional method. Visitors can sample the various tea flavors. The plantation has a stunning sunset view and offers a spectacular view of Kodaikanal town. You can shop for your favorite tea flavor.
You can go on a safari tour across the estate, go hiking through the hills or take a guided factory tour. If you want to experience living in a tea estate, Kolukkamalai Tea Estate offers accommodation for one or two nights on its premises. They have converted old staff quarters into a guest house. You explore the tea estate leisurely and enjoy the sunset and sunrise.
If you are a photography buff, you can take some fantastic pictures of the majestic view of the Nilgiri Hills, and tea plantations scattered across the valley.
Before you plan your visit to Kulukkalai Tea Estate, remember the drive is not for the faint-hearted, the road is unpaved and bumpy, and it is best to hire a local jeep or 4×4 to visit the estate. The ride is worth it with a mesmerizing view.
Timing: 7 am to 6 pm, closed on Sundays. There are no restrictions if you visit the tea plantations and you can stay as long as you wish.
Fees: Tour companies organize Kulukkalai Tea Estate safari and other adventure activities and camping. The tea plantation visit is Rs. 100.
ALSO SEE – Luxury Resorts in Munnar to stay in for your holiday
3. Sevenmallay Tea Estate
Sevenmallay Tea Estate is one of the best Munnar tea estates to visit. It was founded in 1900 and is at an altitude of 4800 feet to the southwest of the Kannan Devan Hills. One of the Tata Tea plantations in Munnar, this stunning tea estate is spread over hundreds of acres of land.
A beautiful bungalow smack in the middle of the estate adds to its appeal. The tea estate has emerged as one of the most popular destinations in Munnar because of its picturesque surroundings, verdant tea gardens, and colonial mansion in the middle. The Munnar Church, Munnar workshop, Ropeway station, Gymkhana Ground, Cenotaph, and KDH Club are here.
You can explore the Seamallay Tea Estate by strolling around the estate. You can learn more about the tea cultivation process and plantations. Don't forget to purchase tea from the estate store.
Timing: You can visit the plantation throughout the day.
Fees: No entry fee is required.
4. Pallivasal Tea Garden
The mystical Pallavasal Tea Garden is on the outskirts of Munnar in Pallivasal village. The tea estate is renowned for its natural beauty and stunning tea plantation meadows. Kerala constructed the first hydroelectric project was constructed in Pallivasal.
You can visit the magnificent Pallivasal waterfalls located in the estate. It is one of the best waterfalls in the hill station and is surrounded by lush green forests. The waterfall is the ideal location for picnics or for those who want to escape and spend the day away from the bustling bustle of cities. You can see the Sahya mountain range from the garden.
If you plan a day excursion to Pallivasal Tea Garden, remember to carry some warm clothes as it can become chilly at high elevation. You can stop by Attukal Waterfall on the way to the plantation. There are several trails if you enjoy hiking.
ALSO SEE – 10 Best Spas in Munnar
5. Lockhart Tea Estate
The Lockhart Tea Estate is one of the oldest Munnar Tea Estates. Baron John Von Rosenberg and his son built the Lockhart Tea Estate Museum in 1936 but were inaugurated years later in 2014. The museum provides in-depth information on the traditional procedure for growing and processing tea. It also houses a variety of antique tools used on the plantations, including fletcher sprayers, shears, and mechanical harvesting devices.
You should also visit the Lockhart Factory which still uses the traditional method to produce tea. Tea is made from the Camellia Sinensis plant. The Lockhart Factory's building is made entirely of wood and is built using age-old, conventional techniques. You will learn the tea manufacturing process in detail in the 30-minute tour. You will understand the differences, properties, and benefits of green, white, and black tea.
The well-manicured lawns outside the museum. You can purchase tea and different snacks at the cafeteria. You get the opportunity to interact with tea plantation workers.
Timing: 9 am – 5 pm
Entry Ticket Charges (per head) :
Adult Indian: Rs. 250/-, Foreigner: Rs. 500/-
Children (8-14) Indian: 100/- ( 8- 14 yrs), Foreigner: Rs. 250
History of tea plantations in Munnar
Munnar Tea Plantations have a fascinating history. German planter Baron Von Rosenberg and his son founded the Lockhart Tea Estate which is Munnar's oldest tea plantation.
AH Sharp, a British Planter arrived in Munnar in 1880 after learning about the fertile land in the area. He started to plant tea trees in Parvathy on a fifty-acre property that is now part of SevenMallay Estate.
ALSO SEE – Kanthalloor- The Land of Fruits in Munnar
The Finlay and Muir Company was founded in 1895 and purchased 33 tea farms. Soon after, in 1897, it hired the Kannan Devan Hills Produce Company to oversee them.
A devastating flood in 1924 hit the tea industry hard. The industry never recovered it took years for the village to attempt to reconstruct. Tata industries breathed a fresh lease of life into the industry in 1964.
In 1983, they partnered with Finlay to form the Tata-Finlay Group, which later changed its name to Tata Tea Ltd. Currently, they produce over 20 million kg of tea every year, which is sent worldwide!
FAQ about Munnar Tea Plantations
How many tea estates are there in Munnar?
There are over 50 tea estates in Munnar. Harison Malayalam, Michael's Tea, Brooke Bond, and AVT Tea are the more well-known tea gardens in the district. Munnar's climate and topography are ideal for tea plantations and the plantations look like a rich green carpet. Plantations have used various techniques like using terraces to prevent soil erosion and help in irrigation.
Who owns tea estates in Munnar?
There are several tea estates in Munnar. Tata Group owns several tea plantations. Tea plantations cover over 1500 acres of land around the hill station.
Which is the highest tea estate in Munnar?
The highest tea estate in Munnar is Kolukkumalai Tea Estate it is at an altitude of 7900 ft and is accessible by jeep.
Which is the largest tea estate in Munnar?
Kolukkumalai Tea Estate is the largest tea estate in Munnar and is 35 km from Munnar. It is known for its flavorful tea. It is a popular tourist destination, especially at sunset for its magnificent view.
What are the main features of Munnar tea?
Tea in Munnar is known for its unmistakable spotless and medium toned aroma of sweet bread rolled in a dip malt. The brilliant yellow blend with an orange profundity is a mix of solidarity and liveliness.
How to reach Munnar?
Munnar does not have an airport or railway station of its own. The two closest airports are Cochin International Airport (110 km) and Madurai International Airport (140 km) away. You can hire a taxi from both airports to come to Munnar. Alternatively, board private or state buses to get to Munnar.
Munnar is not on any train route. The closest railway station is Alwale or Aluva, 110 km from Munnar. Ernakulam Junction railway station is a major terminus 130 km from Munnar. There are regular trains to major cities in India. To get to Munnar, you can use the buses or taxis available outside the railway station.
The best way to go to Munnar by road is on a state-run or private bus that departs from several places in Tamil Nadu and Kerala. From all of Kerala's major cities, Kerala State Road Transport Company offers bus services to Munnar.
Traveling to Munnar is a wonderful experience because the highways to Munnar are breathtaking. You can easily drive down to Munnar from major cities in South India.
If you plan to visit tea plantations it is best to hire a jeep or 4×4 as the roads can be bumpy.