Anamudi Peak Munnar is the highest peak in South India with an elevation of 2,695 metres and is in Idukki District in Kerala. You can get into Anamudi peak from Eravikulam National Park in Munnar and view the frosty peak from the Marayoor or Udumalpet road in Munnar.
The name 'Anamudi' means the elephant's hair and it is believed that the mountain got the name when some hairs of an elephant were found at the place by the initial visitors.  Being one of the topmost peaks in India, Anamudi stands as the prime tourist destination in Kerala which attracts tourists from all around the globe and you can view it when travelling towards Munnar from Udumalpet.
Anamudi which is the highest point in Kerala is located in the Idukki district  in border of Devikulam taluk  and Kothamangalam Taluk of Ernakulam district. The peak with an elevation of 2,695 meters is hailed as the highest peak in Kerala and South India. Anamudi stands tall in Eravikulam National Park. Loaded with large flora and fauna, Anamudi peak has been an enormous habitat to a wide surviving population of Asian Elephants, Nilgiri Langurs, Lion-tailed macaque, Gaurs and many more.
Blanketed with the evergreen forests and rivers, streams flowing inside the jungle makes the Anamudi enchanting. Tourists are given the memorable opportunity to trek inside the jungle to the top of the mountain and enjoy the wild noise and beauty of the Vaigai, Thamirabarani and Periyar Rivers.
Even though the entry is limited, you can enjoy the beauty of Anamudi from a distance at Rajamala, a tourist spot lying in the  Eravikulam National Park after a short bus ride.
Anamudi- When the heaven blooms green around Anamudi…
The paradise of Munnar, Anamudi peak, is surrounded by the lush green trees such as Gaultheria fragrantissima, Arundinaria densifolia, Blackwood,treak trees etc. and prominent for the unique Neelakurinji flower (Strobilanthes kunthianus) that blossoms once in twelve years. The mesmerizing beauty of rivers, hills, tea plantations, valleys spice cultivation, wildlife are the best sights you can enjoy when you visit Anamudi peak. Anamudi is known as the Himalayas of South India. It attracts a wide range of travel photographers, adventure enthusiasts, expediters and nature lovers to visit.
Why Anamudi is prominent?
As Anamudi is surrounded by the dense forest of Eravikulam National Park, a wide variety of animals like Nilgiri tahr is residing there which are under the threat of extinction. Other animals including Asian elephants, Guar, Bengal tigers, Nilgiri marten etc. are some of the rare species found at Anamudi. The uncommon frog Raorchestes resplendens also resides in Anamudi peak. These rare and recently discovered species are located in Eravikulam National Park.
The spectacular view that Anamudi offers you includes the wildlife beauty of Thekkady, Tamil Nadu, and Munnar. The Anamudi peak is enriched with short Arundinaria densifolia, Anaphalis, Impatiens, Gaultheria and other species of Eriocaulon. Anamudi is the prominent trekking expedition spot in Munnar. It is the highest peak outside the mountain ranges of the Himalayas in India.
The abundant Blackwood trees and teak trees in the green forest lying around the Anamudi peak make the place more exciting. The Anamudi peak is famous for the blooming of Neelakurinji flowers that blossom once every twelve years. The charming hills, valleys, tea plantations, spices cultivations, and wildlife are the major attractions that can be experienced and witnessed from Anamudi peak. You can also enjoy the flowing beauty of many rivers like Periyar flowing into the Arabian Sea. Anamudi will be a perfect destination for people who crave to explore the mystic beauty of nature and wildlife.
Anamudi Entry Fee, Timings and other information
Entry Fee – There is no entry fee in Anamudi other than for entering Eravikulam National Park entry fee which is  125 Indian rupees per person for Indian Citizens and 420 rupees ( 6 USD) for Foreign Nationals.
Entry Timings -8:00 AM – 4:30 PM on All days of the week to Eravikulam National Park
Visit Duration – The visiting hours are scheduled for 2-3 hours. Trekking facilities are controlled by various authorities from whom you have to take directions.
ALSO SEE – Eravikulam National Park – Entry Fee, Timings and Photos
Tourists are allowed to trek/ walk up to 2 km on foot. The people who wish to trek to the top of the mountain need to seek consent from the National Park authorities and take tickets to enter the park. Anamudi peak is highly grassy and sloppy that making trekking more adventurous and difficult.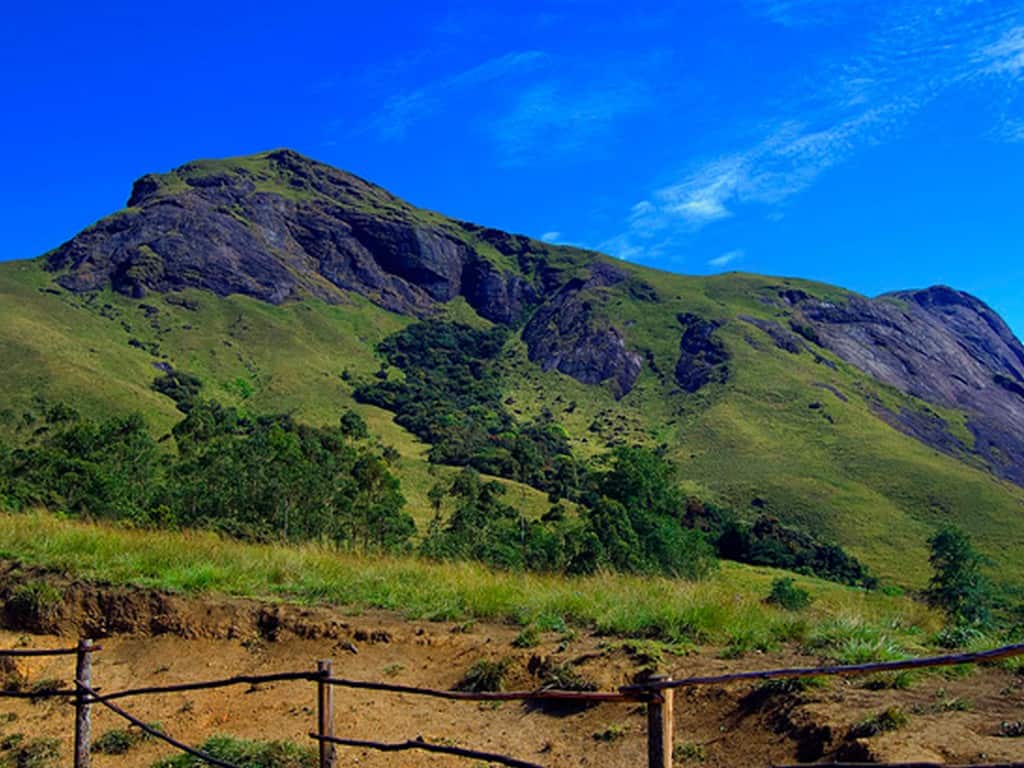 Once you enter Eravikulam National  Park you can board a bus which will take a few kilometres inside and there is a closed path through which you can walk around.  You are not allowed off the trail once you reach a gate. Even though many Indians may find it a trek most foreigners will term it as a Walk. However, the walk itself is a great experience will cool breeze and  clouds and mist all around you
Best time to View Anamudi
The ideal season to visit the Anamudi peak is between November and May. As everyone knows, a tourist destination with hill stations and valleys are more beautiful and stunning during the winter and spring seasons. The elegant beauty of Mother Nature is immensely visible at its extremity during these seasons.
How to reach Anamudi?
Anamudi to Munnar is at a distance of 11 KM that can be covered in 28 minutes.
Anamudi peak can be reached within an hour from Munnar at a height of 2,695 meters above sea level and it is supposed to be the highest peak in the Western Ghats. As Anamudi lies at the border of the Idukki and Ernakulam districts, the transportation facilities are quite easy.
Journey by air
If you prefer an airline, the nearby International airport is Kochi International Airport which is located 140kms away from Munnar and is the nearest airport to Munnar.
ALSO SEE – Nearest Airport to Munnar
Journey by train
Ernakulam railway junction is the closest railway station which is also located 140 km away.
You can also reach Anamudi easily as Munnar is situated close to most cities of Kerala such as Kochi which is well connected by Public Transport and Cars. There is only a 13 km travel from Munnar to Anamudi.
Tourist attractions near Anamudi
The place is surrounded by many other attractive spots that make your vacation entertaining and adventurous. Mattupetty Dam, Kundala Lake, Top station, and Echo point are other enchanting destinations offering you a peaceful experience. Rolling tea plantations, rolling grasslands, Mattupetty Dam and Lake with echo point are the major attractions in that place.
ALSO SEE –Top 16 Best Places to Visit in Munnar (Download Map & Photos)
The eternal beauty of Kundala Lake is another attractive spot near Anamudi. Experiencing the early morning mystic beauty of Top station is the most mesmerizing experience ever. Echo point is another attractive spot where there is an immense flow of visitors during every season.