If you are thinking about visiting Munnar and want to enjoy a good drink, you should look at some of the best hotels in Munnar with a bar. Nestled in the heart of the Western Ghats, Munnar is a picturesque hill station in Kerala, known for its lush tea plantations, misty landscapes, and cool climate. While exploring the breathtaking natural beauty of this region is undoubtedly a treat for the senses, savoring a well-crafted cocktail or a fine glass of wine at the end of the day can be the perfect way to unwind and enhance your visit.
In this blog, we will explore some of the best hotels in Munnar with a bar  that offer excellent accommodation and have bars on the premises. There is something for everyone, from high-end hotels to affordable options.
ALSO SEE – Best Luxury Resorts in Munnar
List of Best Hotels in Munnar with a Bar
1. Spice Tree Munnar
Spice Tree Munnar is in Udumbanchola. The hotel has beautiful chalet architecture and is an ideal mountain retreat with a spectacular view of the Munnar valley. It is the perfect place to get peace of mind and make beautiful memories. The smell of wild forest flowers and forests mingled with the constant cold, fresh breeze, help you feel one with nature.
Spice Tree bar is called Book Bar, and has a relaxing atmosphere. The bar has a good collection of books and is the perfect location to read and relax. It has WiFi connectivity, you can read your kindle or any e-reader. There are various board games, checkers, and playing cards to chill out with friends.
2. KTDC Tea County Munnar
The KTDC Tea County Munnar is cozily tucked between two hills. Every room has a breathtaking view with lavish furnishing. The rooms are the perfect location to see the mist rolling down the hills. The resort is a honeymooners paradise. If you enjoy adventure sports, there are several options such as mountain biking, paragliding, trekking, and rock climbing. If you enjoy strolling in the tea gardens.
KTDC Beer & Wine Parlor is a popular place to unwind and enjoy your drink. There is a wide selection of beers and wine. The relaxing atmosphere and welcoming staff is the perfect place to hang out with friends or relax after a day of sightseeing. You can pair your drinks and light appetizers from the menu. The KTDC Beer & Wine Palor ensures customers enjoy themselves.
3. Bonfire Country Resort
Bonfire Country Resort is around 7 km from Munnar. The property has several amenities to ensure guests have a pleasant stay. The resort offers a variety of amenities to ensure you have an enjoyable stay. Each room is tastefully decorated and equipped with modern amenities. The resort provides a range of leisure options.
ALSO SEE – Best Munnar Resorts with Swimming Pool
Bonfire Country Resort offers several dining options – a coffee shop, restaurant, and bar. Resort guests enjoy mingling and interacting in the cozy bar with the helpful staff. It is perfect if you are looking for a pre-dinner cocktail or private drinking experience.
4. Misty Mountain Resort
Misty Mountain Resort is one of the top resorts in Munnar and offers a stunning view of mountains, tea estates, and of Sengulam dam and lake. It is shrouded in mist after dusk making it an enchanting gateway close to Munnar.
ALSO SEE – The Ultimate Guide to Camping in Munnar
The resort offers 1 restaurant and a coffee shop. The bar in Misty Mountain Resort is a perfect place to have a good time with your friends and fellow guest.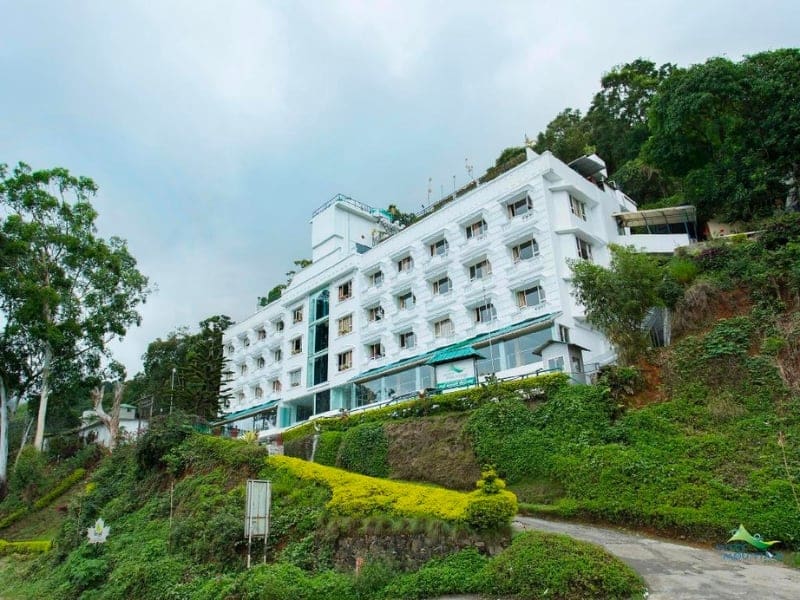 5. Issac Residency
Issac Residency is a boutique hotel that has a stunning view of Munnar and the rolling hills. The hotel features tastefully decorated interiors and well-appointed rooms with contemporary amenities. The hotel's amenities include – a lounge, banquet/conference room, multi-cuisine restaurant, well-stocked bar, and travel desk.
The bar is well-stocked and the bartender can make delicious cocktails. The prices are reasonable. There are comfortable seating arrangements for you to relax. The staff is eager to please and you can have a quick meal with your drink.
Best hotels in Munnar with a bar offer not only a delightful selection of beverages but also an ambiance that complements the serene beauty of the surroundings. Whether you prefer a cozy, fireside sip in the chilly evenings or a refreshing poolside cocktail under the warm sun, these hotels cater to various tastes and preferences. Moreover, the professional bartenders are skilled in mixing up local flavors, giving you a taste of Kerala's culture and hospitality in every glass.
So, as you plan your Munnar getaway, don't miss the opportunity to elevate your experience by choosing a hotel with a bar. It's not just about the drinks; it's about the added layer of luxury and relaxation that these establishments bring to your vacation, making your stay in Munnar an unforgettable experience.