Munnar Honeymoon Tourist Places
Munnar is one of the most popular hill stations and favourite honeymoon destinations in India. The picturesque hamlet nestled is in the Western Ghats at an altitude of 6000 feet and is located in the Idukki district of Kerala. This enchanting hill station beckons honeymoon couples from far and near and there is a long list of Munnar Honeymoon Tourist Places to enjoy your honeymoon with romantic experiences. Sprawling tea plantations, thick forests, scenic hill ranges, verdant valleys and rich wildlife makes a couple fall in love with this place. Here is a list of romantic hangout places for couples in Munnar.
1. Verdant Tea gardens in Munnar
Verdant tea plantations are the uniqueness of Munnar and are one of the best Munnar Honeymoon Tourist Places. The sloppy hills ornamented with lush green tea bushes are omnipresent in this quaint hill station. The stretches of tea and other plantations are never-ending and set a delightful backdrop for romance in Munnar. A myriad of activities can be performed in the plantations; they are not just to be looked at.
ALSO SEE-  9+ Best Things To Buy in Munnar (With Local Recommendations)
A morning walk in the vast, straggling tea plantation is ethereal. The warm sun rays beaming coupled with the invigorating chills of the place, the dew-kissed valleys, the cacophony of birds chirping and the sight of the dense canopy in the distance, all act together to add fuel to your romance. Apart from the walk, a long drive through the tea plantation is equally delightful.
2. 100-year-old Tea Museum
You don't have to be a tea lover to enjoy a tea museum. The process of converting fresh tea leaves into processed tea powder and the story of tea making is very enjoyable. There are many tea factories and museums that allow tourists into their premises and processes. The Tea Museum located at KDHP's Nullatanni estate is one such museum where one can witness the whole process of tea making. This is one of the must-visit Munnar Honeymoon Tourist Places.
According to its founders, the aim of the museum is to exhibit the history of tea plantations in this region which are more than a century old and to showcase the growth of the tea industry. All the processes, right from picking the tea leaves to finally packing the finished products are revealed here. Apart from seeing all this, the visitors can buy tea products fresh from the factory.
3. Candlelight dinner near Tea Gardens – Enjoy a Romantic Evening with the view of a tea garden
This is something couples must try while in Munnar if your resort offers the same. Almost all the restaurants previously mentioned offers candlelight dinner services for couples honeymooning. International cuisines like Italian, Chinese and Thai are the most preferred cuisines by couples for candlelight dinner than local cuisines. Some restaurants even arrange barbecues and live cooking for couples honeymooning. Getting a candlelight dinner especially during the peak tourist seasons, with the swarm of honeymooning couples frequenting the restaurants is near to impossible.
Therefore book your candlelight dinners in advance if you wish to spend a romantic night with your loved one over good food. Even if you are unable to arrange a candlelight dinner or the restaurants are overbooked, you can still have a candlelight dinner. Get some takeaway food, a mat, and some candle and arrange your own candlelight dinner. You have an array of versatile locations for this in Munnar. Grab a beautiful spot, light the candles, pump up song romantic music and Voila, you have a beautiful and more adventurous candlelight dinner.
4. Meesapulimala Trekking (Only for Honeymoon Couples seeking Adventure)
If you are not too spent after a lavish wedding and still have some energy left in you to trek a 2640 meters tall mountain, attempt this adventure. The majestic mountain that resembles a rampant tiger is something that should not be missed, even by honeymooning couples. The trek requires 6-8 hours to finish and you will need the rest of the day off after the strenuous trek. The experience at peak hidden away in the heights of the mountains ranges, covered by dense forest is absolutely spellbinding.
Somewhere between the base camp of the mountain and the peak lies a sky cottage, exclusively designed for couples celebrating love. The cottage is ideally located atop a cliff overlooking a beautiful valley and a cascading waterfall. It is designed and furnished to nurture love. It is a lonely and secluded cottage in the woods and gives the ambience and privacy required for a honeymoon. The beautiful rhododendron bloom laden peak, the blanketing clouds, and the panoramic view from the peak will make your honeymoon blissful. Meesapulimala trekking is one of the best Munnar Honeymoon Tourist Places.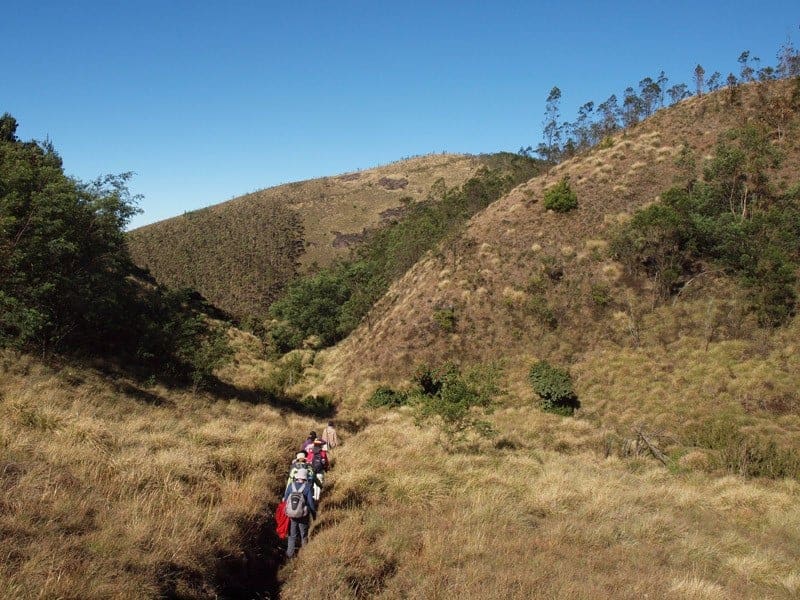 ALSO SEE – Best Places to Visit in Munnar
5. Eravikulam National Park and Rajamalai
Eravikulam national park falls along the crest of Western Ghats and is spread over an extensive area of 97 sq. km along. The national park managed by the Kerala Department of Forest and Wildlife has located 15 km from Munnar. The mountain ranges here are consistent hill plateau and you can witness the glorious high rolling slopes here. You can witness the highest peak of Kerala Anamudi which stands impregnable at a height of 2690m. This is one of the best Munnar Honeymoon Tourist Places. The premises of the national park are covered with thick evergreen tropical and sub-tropical vegetation. The park is irrigated by several small streams which later merge to form tributaries that eventually join Periyar and Chalakudy rivers.
Rajamalai is a captivating mountain range that falls in the range of Eravikulam National Park. Rajamala is located about 15 kilometres away from Munnar town. The place is encrusted with lush greenery and is also the natural habitat of the Nilgiri Tahr or Hemitragas hypocrites. It was converted to a national park to provide a secure sanctuary for the already endangered species of Nilgiri Tahr and also to provide a facility for humans to enjoy the wildlife without causing any harm to them.
ALSO SEE – Munnar Travel Guide-First time visitor tips
6. Mattupetty Dam and Dairy Farm
Mattupetty dam and reservoir is a concrete gravity dam is built between the mountain ranges and is used mainly for hydroelectric power generation. The descent of water from the dam and the magnanimous reservoir holding tonnes of water is a breathtaking sight and the place is idyllic to enjoy the serene nature. The place is often visited by herds of elephants; the sight of elephants drinking and playing in the water hole is again an endearing sight. One should consider this place as it is one of the best Munnar Honeymoon Tourist Places.
The location is also famous for an Indo-Swiss Farm situated very close to the dam. This highly specialized dairy farm is a part of the Indo-Swiss Livestock Project. The sight of hundreds of high-quality cattle are roaming and rearing in the green valleys is like a glimpse of Switzerland countryside. The visitors can see the cattle breeding process up close and even the preparation of various dairy products.
ALSO, SEE – Chokramudi Peak Trekking
7. Kundala Lake- Arch Shaped Dam & Photo Point
Kundala Lake comprises a minor arch shaped dam built over an artificial reservoir and a lake huddled between the mountain ranges and is among the popular Romantic Munnar Honeymoon Tourist Places. This charming place is just 20 kilometres away from Munnar town and is perched at a height of 1700 meters above sea level. Kundala Lake and its premises are the locations for neelakurinji bloom. Neelakurinji flowers that bloom once in every 12 years transform this place into blue heaven and it is a sight worth the waiting. Even if you are not visiting the place in 'neelakurinji year', you can still enjoy the magic of flowering as cherry blossoms appear twice a year in this area.
The dam has a history of its own, being Asia's first Arch dam to be built. Apart from the sightseeing, a couple can try their hands at boating. Boating in Kundala Lake is a wonderful experience. Various boating options like pedal boats, rowboats, and Kashmiri shikhara boats are available for tourists on rent. To peddle away to the distances of the lake, quaffing the beautiful silence of the valleys are experiences beyond words. A well-kept golf course of Munnar Tata Tea Ltd is available near the lake and the Aruvikkad Waterfall is also in close proximity.
8. Top Station and Echo point
If you are not subjected to vertigo and if you are someone who enjoys seeing things from a height, Munnar offers some lofty spots for you as well. The top station which gives an impressive bird's eye view of Munnar is perched at a height of 1,880 meters above sea level. The spectacular view of the Western Ghats and the incredible view of the valley of Theni from the top station is awe-inspiring. The top station is also home to an archaic railway station which is a part of Kundala Valley Railway; in fact, the spot derives its name from being the top railway station in the area.
Echo point is another astounding elevated location in Munnar and is one of the must-visit Munnar Honeymoon Tourist Places. The echo point is something that fascinates everyone alike in Munnar. Screaming on top of your voice to the rocks and having them heard back makes everyone excited like a child. The honeymooning couple can visit the spot and proclaim their love to the mountains. The experience is a firsthand natural phenomenon and something exciting to try as a couple.
ALSO SEE – The best time to visit Munnar
9. Romantic Resorts with Great views in Munnar
The romantic destination has an abundance of romantic resorts suitable for honeymooners. Multi-cuisine eateries like Mayabazaar, Fire-Grill Riverside Barbeque restaurant, Hotel Hillview restaurant, Rochas restaurant Cafe Paprika, Planter's Café, Dreamz restaurant, Winter Yard, Lake View restaurant and East-end Dining bring scrumptious delicacies from across the world to your table. All these aforementioned restaurants have great views and ambience, where a couple can discover their love for food and for each other.
High-end restaurants like Hill spice, Three Rivers are the places where you can slake your sugar rush and indulge in delectable sweet preparations. KTDC Tea County restaurant, Tea Valley, and Taste the brews are the places where you can try tasty, steaming cups of hot tea, freshly brewed coffee and saccharine cocoa drinks. Saravana Bhavan, Hotel Sri Nivas, Gurubhavan, Hotel SN, Sree Mahaveer Bhojanalaya Restaurant, and Sri Krishna restaurant are the places for you if you are craving some South Indian delicacies.
10. Marayoor Sandalwood Forests
Everything in Marayoor smells like sandal, you are doing a favour to your skin and soul by just being there. This enchanting place is located 42 kilometres away from Munnar in the Udumalppetta route. The place is known for its large expanses of sandalwood forests and is one of the best Munnar Honeymoon Tourist Places. When you enter the forest the trees can be seen in sparse but as you gradually move inwards you can see a profuse growth of sandalwood trees.
The place has some historical significance too; many Stone Age paintings, dolmens, and rock edicts can be spotted here. The vestiges of Stone Age civilization depict the place's rich heritage dated back to 10,000 B.C.