Munnar in Kerala is an ideal getaway for all those who want to enjoy a hill station holiday. There are umpteen fun things to do in Munnar and here is a curated list of things you can do at Munnar Tourist Places.
There has been an increase in the number of tourists per year to this small town in Kerala, because of the long list of things to do in Munnar. The tourists have to ideally plan their outing based on what they want to see in Munnar. Proper planning can allow them to immerse in the natural beauty of this picturesque hill station.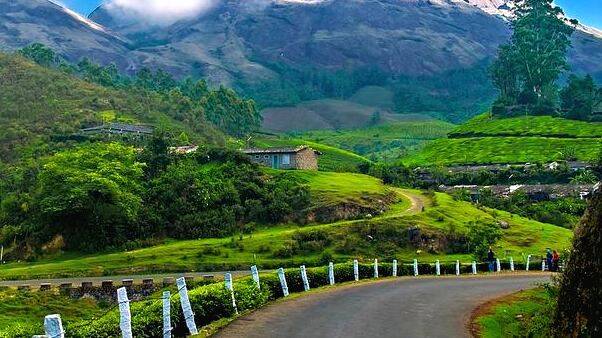 Munnar is snugged comfortably in the Idukki district in God's own country, Kerala. The name Munnar is derived from the confluence of three rivers. These three rivers are Mudhirapuzha, Kundaly and Nallathanni. It is a part of the Western Ghats mountain range and is at an elevation of 5,200 ft above sea level, covering a total area of 557 sq. km. Munnar is one of the most sought after destinations in India and boasts of an enviable legacy. The pleasing atmosphere and things to do in Munnar varies from boating, trekking, Ayurveda to treehouse stays.
ALSO SEE-  9+ Best Things To Buy in Munnar (With Local Recommendations)
When you proceed to Munnar from Kochi, the weather suddenly turns cooler. You can see the mist over the mountains and the green hills with miles and miles of tea and women plucking tea from the green tea gardens. This is a sign that you have arrived in Munnar. . The temperatures swing between 5 degrees in winters to 25 degrees Celsius in summers. The conditions are ideal for flora and fauna to thrive and have attracted tourists from far and wide. People travelling to Kerala, make it a must-visit place in their itinerary.
List of Best things to do in Munnar
Tea Mountains with rich plantations, the green trees here and there, the tranquil blending of mountains and the mists, and the thundering waterfalls ending the hush – there are multiple things to do in Munnar. There is certain restriction beyond which human can't imagine and this place is beyond anyone's imagination. The range of Munnar is renowned for the tea manor and much more.
1. Stroll past the Tea estates in Munnar and take a photo to cherish
A walk through the aromatic tea gardens, scenic hills covered with green foliage and a camera in hand are some of the best things to do in Munnar. There cannot be a better way to spend your early morning or day. You cannot enter tea plantations generally, but on the higher reaches up in the mountains on the way to Top Station, there is no one to stop you. You can get around and walk along a path that leads into tea gardens inside the plantation.
Tea is the most widely harvested beverage in the southern part of India apart from coffee. There are varieties of tea and coffee being harvested every season. Tourists can always get their hands full on their visits to the plantations. There are dedicated tea walking tours designed specifically for curious travellers. These tours cover right from plucking the tea leaves and processing the leaves into actual tea. These tours are guided tours and tourists can get their share of becoming a tea cultivator. The plantations are on the slopes of the hills. You will always be kissed with gentle breezes of pure air, which can easily rejuvenate the traveller within you.
2. Admire the splashing water streams and waterfalls
Munnar is dotted with majestic waterfalls that are surrounded by tea gardens. As you walk past the green tea gardens and click pictures with an occasional waterfall amidst the mountains, you realise that one trip is definitely not enough. Valara, Cheeyappara and Attukal are the most famous waterfalls in Munnar.
Due to the elevation of Munnar, there are numerous waterfalls, both huge and small. These are the cynosures of pristine beauty and attract many visitors overall. The waterfalls are in full flow during the rainy season. The closest waterfall in Munnar is Lakkam Waterfalls, which provides a visual treat for its viewers that makes it one of the best things to do in Munnar. Its cascading effect and the spectacular Vaga Trees, make it inaccessible and dangerous at some places.
The most visually beautiful waterfall in the Munnar region is the Attukal waterfalls. Its height is fairly higher than the other waterfalls in the region and a small bridge between two banks of the waterfall gives it an adventurous touch. The sound of the roaring water thudding on the rocks below will surely give you the thrills.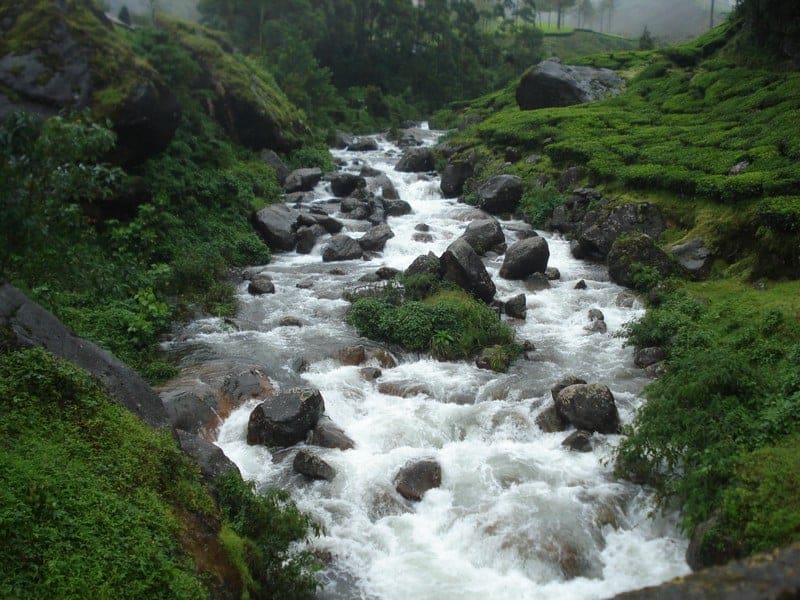 Other majestic waterfalls which cover the landscape of the Munnar region are Nyayamakad Waterfalls, Chinnakanal Waterfalls, Kuthumkal Waterfalls and Cheeyapaara Waterfalls. All of these unique waterfalls give away beautiful views to their visitors. They get covered by clouds and the sound of water falling can surely thrill your experience. These waterfalls will make you feel the genuine excellence of nature when you travel from any of the nearest airports in Munnar.
ALSO SEE – Nearest Airport to Munnar- How to Reach?
3. Go trout fishing amidst tea estates
A well-maintained hatchery for trout functions near the Rajamala range, and foreigners especially from the UK still make it a point to go for angling trout fish while visiting Munnar. The trout is a freshwater fish known for its ability to survive in high altitudes and low temperatures. Trout anglers may dip their fishing rods in the shimmering waters of Sita Devi Lake and enjoy a barbeque of fish.
However, most people prefer to leave the trout fish back into the water and enjoy this just as a hobby. If you are interested in trout fishing then contact the Tata Co-operative Tea Company Office in the heart of Munnar offer to rent their spare bungalows to visitors and arrange trout fishing. The trout fishing is in their lands and their permission is needed. This is one of the best things to do in Munnar.
4. Meet the Nilgiri Tahr at Rajamalai
The Eravikulam National Park shelters the rare Nilgiri Tahr, which is very near to extinction and Munnar may be the only tourist destination where you can see this species. They are friendly, docile and naturally tamed. Pat them or pose for pictures with them; you'll surely have plenty to brag about the back home after meeting them!
The national park has a coverage area of 97 sq. km. And is the home to the distinct Nilgiri Tahr. There are about 120 species of birds and about 26 different species of mammals. It is also home to very rare orchids, trees and bushes. There are elephants and langurs prowling through the landscape. The sights are absolutely amazing.
The park was developed with a motive to save the species of Nilgiri Tahr from extinction and also protects many species of flora and fauna. The park is not accessible by vehicles and only a few government buses are allowed inside. The Lakkom Waterfalls are within the region of the Rajamalai National Park.
5. Talk to yourself at Echo Point
Stand at the eco point, shout at your highest pitch and hear your voice coming back to you. The natural echo phenomenon here gives the place its name and the cold and pure mountain air, the mist-clad views of hills and the panoramic view of tea gardens make it worth a visit.
Echo Point has located approximately 15 km from Munnar at a height of 600 ft. The peculiar positioning of the valley makes it the perfect place for an echo. A person standing on the ledge can shout and hear his/her own voice back. The view is very scenic and has a green tinge to it, as the entire viewpoint is covered in lush green trees. It is an ideal location for trekkers to get a taste of nature, complete with mountains, clouds and waterfalls. This is one of the best things to do in Munnar.
Nature walks at Echo Point is very popular and one of the best things to do in Munnar. Likewise, voyagers can go trekking through the adjacent coffee, tea and spice plantations and fields. Cool air with a quiet tranquil environment makes Echo Point a much-loved spot among travellers to Munnar.
6. Learn the art of tea making
Visit the century-old tea factories like Lock Hart Tea Factory where you can taste and pick up the finest tea in the country. Of most interest is the Tata Tea Museum where you can witness tea-processing. The museum traces the growth and evolution of tea plantations in Munnar right from the tea sapling to an automated tea factory where it is processed and shows how the tea making process has evolved over the years. Mechanism showing how tea is prepared from these leaves add to the delight. Simply stop your vehicle roadside, and experience the wonderful tea museum which is unique in its own way.
7. Visit the Top Station Viewpoint
Top Station is the highest point on Munnar-Kodaikanal Road located about 40 km from Munnar and is a little above the same, placed at 1880m is the viewpoint. Home to the rare Neelakurunji (Strobilanthud) flower that blooms every 12 years, it offers a panoramic view of Tamil Nadu from one of the highest points in Tamil Nadu.
The view from the top is truly amazing, giving a panoramic view of the vast expanse of valleys and plains of the Theni District. Back in history, tea was delivered from the Kannan Devan tea estate via railway and then forwarded to Kottagudi, using ropeways. It derived its name from the highest railway station in the Kundala Valley. Tourists can camp as well at the top of the peak. You will be lucky if you are getting a clear view of Top Station as the mountains are misty and rainy most of the time.
8. Turn on the adventurer in you
Munnar has a range of treks from Meespulimalai to Kolakkumalai which can be termed as moderate to hard. Choose from an array of adventure sports that range from rock climbing, rappelling to paragliding and even cycling amidst the tea gardens. The natural beauty of Munnar makes it even more exciting for such activities many of which provide you with a chance to view the mighty mountains kissed by white cotton clouds up close.
9. Staying in a Treehouse in the middle of tea plantations
Munnar has some of the best treehouses in Kerala. Treehouses are eco-friendly structures created using the same principles as ancient times when hunters used to hunt wild animals in the forests surrounding Munnar. Staying in a treehouse in the middle of tea plantations is a unique experience possible only in Munnar. Treehouse stay is very popular among the honeymoon couples who frequent Munnar.
10. Indulge in boating at the Blossom Park
Blossom Hydel Park with its meticulously planned garden, blooming flowerbeds and beautiful surroundings is a popular hangout for nature lovers and families with kids. You can enjoy activities in Munnar like Cycling, boating and roller skating as well as Hammocks& meditation caves.
11. Enjoy a stroll in the quiet places near Mattupetty Dam
Mattupetty Dam is a travelers delight where you can get to do some speed boating at an almost perfect place, calm waters surrounded by green hills. This is a perfect place in Kerala for a family outing with kids. The Mattupetty Dam is surrounded by woods and has a small stream that makes for a picture-perfect location for many couples who come for honeymoon packages in Munnar.
Situated 13 km away from Munnar, at a height of 1,700m, is an arch-shaped dam named as Mattupetty dam. It has still waters and reflects the entire tea plantations and gardens around. It is also an ideal location for speed boating and other water sports. The dam was built to conserve water and also generate power. It plays a pivotal role in supplying power across the valley and also provides a lifeline for the wildlife. The dam is nestled in between a Shola forest, which attracts many trekkers. Tourists have the option to lose themselves in the peaceful serenity of the waters.
12. Enjoy Masala tea in cold Munnar Climate
Tea is embedded in the life of Munnar and people in Munnar know how to prepare the best cup of tea. A warm cup of coffee and masala cashew nuts make you indulge in a heavenly experience as you enjoy the rains and the cool weather of Munnar.
13. Enjoy prehistoric Dolmens in Marayoor
Marayoor is a village with the remnants of the stone age civilization with prehistoric dolmens built using four slabs of rock, three for the sides and the third slab placed on top of these three as a roof. Maybe Munnar is the only place where you can see these dolmens which is a symbol of stone-age civilization.
The place "Muniyara? in Munnar have leftovers of ancient cists having a place with the Megalithic age. There were special burial chambers made of 4 stones put on edges and secured by a 5th one called the top stone. Some of these burials contain a few internment chambers, others have a quadrangular facing outward and attached with stone chunks. These are likewise secured with top stones.
14. Enjoy the Bazaar Shopping in Munnar
Bazaar in Munnar has lots of local colours. Shops kiosks and market stalls. Cows wandering freely and tea stalls and shops selling sweaters and warm clothing. This place where tourists di shopping in Munnar is a photographer delight with Fresh fruits, veg etc as well as household goods etc…
15. Shop for Tea from Kanan Devan Hills Plantations Company Private Limited
Most of Munnar's tea hills belong to Kanan Devan Hills Plantation Company and they have a place in town from where you can buy the best and pure tea in India. The British had stumbled upon this region in the 19th century, and after some trial-and-error with various crops, finally got it right with tea. l. You can buy tea from the Kannan Devan Hills Produce Company Pvt. Ltd. located at Kochi-Madurai-Tondi Point Rd in Moolakadai which was formed and Tata Tea transferred the ownership of its plantations to the new company in 2005. Employees of Tata Tea hold a stake in the company.
16. Shikara Ride in Kundala Lake
Kundala Lake is formed because of the arch-shaped dam between the valley. it is located 20 km from Munnar and the breathtaking view from the dam is a sight to remember. There is a number of boating options available, including paddle boats, Kashmiri Shikaras and also rowboats. The rich freshwaters of the Kundala Lake help in the blossoming of attractive flowers. One of the flowers, Neela Kurunji, blooms once in every 12 years. It is a rare sight. This is one of the best things to do in Munnar.
Apart from the above, there are several adventure activities and other things to do in Munnar on which tourists can lay their hands upon. Starting from Mountain trekking to various spots like Chokramudi, Shola Forests, Lakshmi Hills amongst others. There are rappelling activities available in Potthamedu. Moreover, one can experience the flying fox and zipline between two hills. It's one thrill-seeking activity. There are spice gardens and various spices can be tasted across Munnar. One can also get the chills of a night safari in Chinnar forests and take on nature in the silence of the woods. Munnar cannot be missed.
17. Watching tea gardens from Hill Station View Points make Munnar even more beautiful
Top Station is around 35 km from Munnar and is 1800 m above sea level. Tourists to Munnar never miss an opportunity to visit Top Station to appreciate the all-encompassing perspective it offers of the state surrounding Munnar. A fascinating site at this place is the remains of the ropeway station that connected the hills to the tea bequests. From here, one gets a dynamite view of the encompassing mountainous scene.
The beautiful hill station is sure to place to visit because of its picturesque magnificence and rich plantations. To welcome this magnificence, you ought to visit this glorious spot immediately in your life. Take your pick from any of the best things to do in Munnar and head here for a complete holiday experience.
Munnar with its aromatic verdant tea plantations and pristine views is a must-visit when you go on a holiday in Kerala. Have you enjoyed other things to do in Munnar that is not is your list?
Share it in the comments